Robotics, Sculpture & Paper Recycling
At G.D. Goenka Public School , we believe in developing extra curricular skills in order to bring out the creative genius within a child. SUPW classes are regularly held to help students express their skills.Painting,Sculpture,Origami all form a part of this.A paper recycling unit has also been set up to foster respect for environmental conservation wherein students recycle and remake waste paper into beautiful hand made sheets. The robotics team of our school is highly skilled and well equipped to take up not only regional or national but International challenges as well.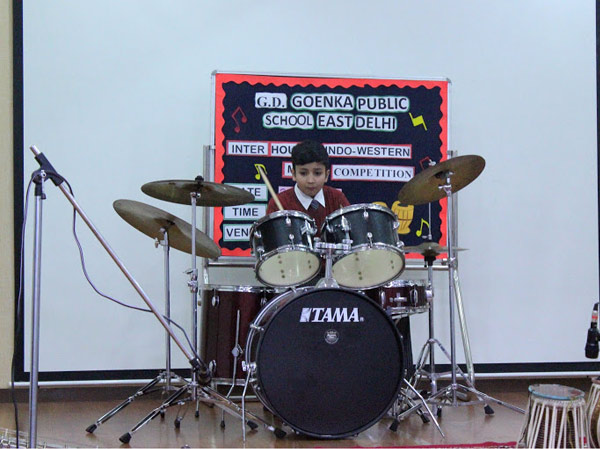 At G.D. Goenka Public School, children grow and develop in a reassuring world, bright cheerful classrooms, hygienic environment and the best teachers, all perfectly harmonized to facilityate the child's quest for knowledge, her efforts to embrace the arts and her ability to enhance the quality of life.
Well-equipped specially designed art studios offer excellent facilities for painting, drawing, clay modeling, print-making, tie and dye, knitting, embroidery and doll-making etc.
Music & Dance are an integral part of the school's life. Class lessons give everyone the chance to make music together. Individual instrumental lessons occur on a regular basis. Specialties include guitar, drums, sitar, keyboard and tabla.
Students learn various contemporary and classical dance forms from experts. They are given opportunities to perform in stage shows and music competitions throughout the academic year. Drama is an ever-growing aspect of school life. Students are encouraged to be involved in all aspects of production from performance to back-stage lighting, sound & make-up.
G.D. Goenka Public School  provides many opportunities for students to take part in team games or develop solo skills. Students of all ages and abilities are encouraged to take part in sporting activities, to learn about team work, fitness and value of sports in life. We provide our students ample of sporting facilities and opportunities in both outdoor and indoor arena. These includes- Basketball, cricket, volleyball, badminton, table tennis, chess, lawn tennis, athletics, aerobics, yoga, gym, shooting range, obstacle course to name a few. PEC Programme- G.D. Goenka Public School East Delhi also offers PEC Programme, a unique initiative of UN-Aids, CBSE and British Council. We have One Period Every Day in Primary Classes for Physical Education Card Activities which serve as a unique blend of academics and games for these formative years.